Toronto - Shopping
Sherway Gardens
If you are searching for upscale, premiere shopping destinations in Toronto, welcome to Sherway Gardens. Including stores as: The Bay and Sears, Holt Renfrew, Sporting Life. Labels and designer brands, Sherway offers the best selection of shops in a sophisticated and elegant environment. More stores like: A&F, Victoria's Secret, LaCoste, Juicy Couture, Michael Kors, Pottery Barn, Coach, GEOX, The LEGO Store, Aritzia, BCBG, and more. Spend the day shopping the city's best selection in a relaxed environment. Enjoy lunch under the tented Gourmet Fair or a selection of bistros throughout the centre.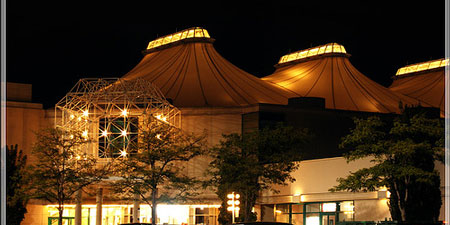 The Bay
In 1964, the first official Bay store was introduced in Canada. The Bay has since established a reputation for service, quality, and more than ever, for style. By creating a remarkable blend of the latest style trends and contemporary classics. The Bay is one of the nation's leading fashion retailers, with 92 stores across the country. Our flagship downtown stores in Canada's largest cities including Toronto, Montreal, Vancouver, Ottawa, Calgary and Winnipeg carry the best of our most stylish apparel, beauty, home brands and more.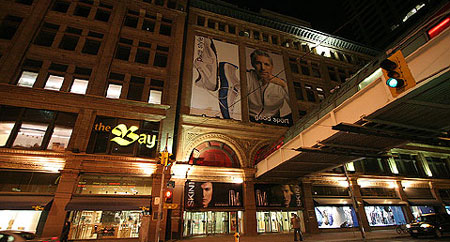 Toronto - Shopping
Hazelton Lanes Shopping Centre
Hazelton Lanes is a luxury shopping center located in downtown Toronto, Bloor/Yorkville at 87 Avenue Road Toronto, that have more than 200,000 square feet and is home to more than 60 unique fashion, lifestyle and service boutiques. International brands that can be found inside retailers at the mall are: Carolina Herrera, Cole Haan, Dolce & Gabbana, Burberry, Jean-Paul Gaultier, Hugo Boss, Manolo Blahnik, Oscar de la Renta, Roberto Cavalli, Salvatore Ferragamo, Stuart Weitzman, Valentino, and Versace.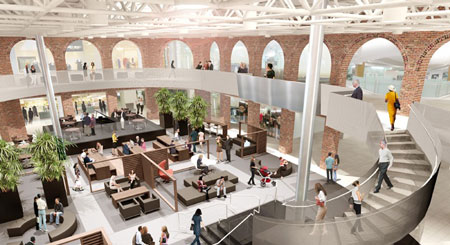 Toronto Eaton Centre
Toronto Eaton Centre is a place like no other, located at the south-west corner of Yonge Street and Dundas Street it is one of the most interesting and exciting shopping experiences you will find anywhere. Its spectacular glass galleria soars above a fascinating selection of more than 230 retailers, restaurants and services. Recently transformed with $120 million in facility upgrades it is truly a unique destination that offers an urban vibrancy and exciting possibilities with every visit.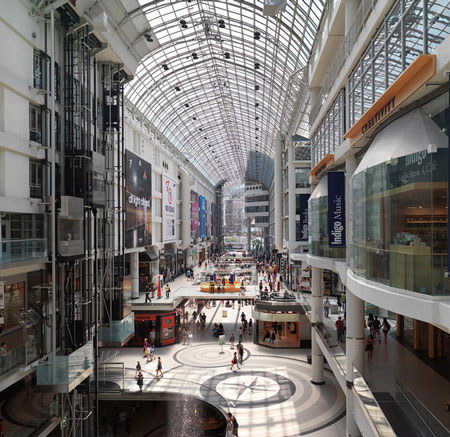 Vaughan Mills

Vaughan Mills is where fashion and outlets, plus dining and entertainment equals something you have to experience to believe. Luxury shopping for less and bowling a strike on the same day? If you're not tired by the time you leave Vaughan Mills, you might not be doing it right. Vaughan Mills features an architectural design theme based on discover Ontario, which celebrates the beauty and diversity of the province. Here you will find carefully curated mix of factory outlets and concept stores make it a paradise for fashionistas.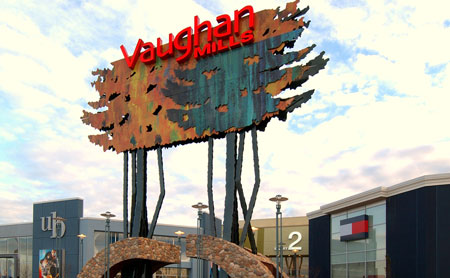 Yorkdale Shopping Centre
Yorkdale is Canada's premier regional shopping centre. Discover more than 240 exciting stores and services including The Bay, Holt Renfrew and Sears. A recent $60-million expansion accounted for an additional 40 new stores to Yorkdale, and the fashion centre now offers its shoppers an even more exciting array of retailers, including Apple Store, H&M, Lululemon, Mango, Sephora, Zara, Tiffany's and Victoria's Secret. More than 180,000 square feet of shopping space was added in the redevelopment, and the new section features a soaring 60-foot-high glass atrium.
Honest Ed's Bargain Shopping Centre
The shopping centre is located in midtown Toronto in the culturally diverse, safe and vibrant neighbourhood known as the Annex. It is canada's first original bargain store featuring 160,000 sq. ft. of bargains and the world's largest electric sign with 22,000 moving light bulbs make it a unique shopping area featuring boutiques, book stores, artists studios, antique shops, cafes, bars and restaurants.
Toronto - Shopping
Toronto condos news
One Bloor street Toronto condos
http://onebloor.com/
Toronto new luxury condo The Four Seasons Private Residences