Toronto Restaurants
Fran's Restaurant
210 Victoria Street, Toronto
(416) 923-9867
www.fransrestaurant.com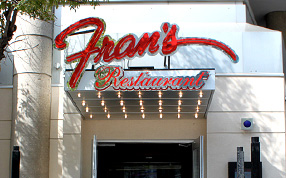 Captain John's Harbour Boat Restaurant
1 Queens Quay West
Toronto
(416) 363-6062
captainjohns.ca
180 Panorama
55 Bloor Street West
Toronto
(416) 967-0000
www.panoramalounge.com

Canoe Restaurant & Bar
66 Wellington Street West
Toronto
(416) 364-0054
www.oliverbonacini.com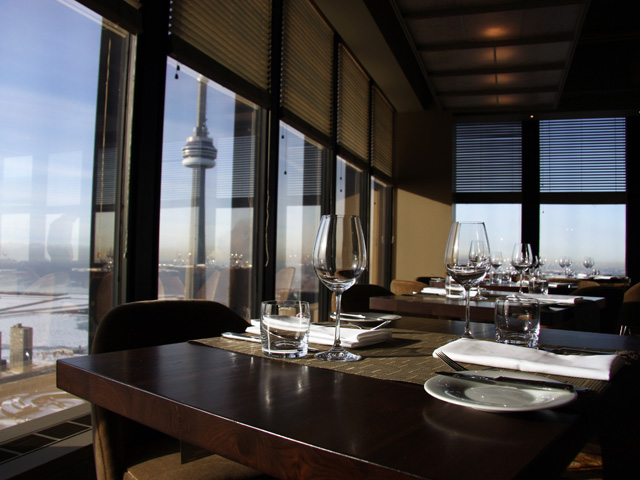 Perigee
55 Mill Street (The Distillery District), (416) 364-1397
Highly recommended restaurant offering 5, 6 & 7 course dinners.
Prego Della Piazza
150 Bloor St. West, Yorkville, (416) 920-9900
Long-established Italian restaurant in fashionable Yorkville Good star-gazing spot during the Toronto International Film Festival.
Harbour 60
60 Harbour Street (waterfront between York & Yonge), (416) 777-2111
Grand yet inconspicuous steakhouse.
Il Gatto Nero
720 College St. (at Crawford St.), 416-536-3132
Charming Italian eatery. Unfussy and authentic.
Jacobs & Co. Steakhouse
12 Brant St (King West neighborhood), (416) 366-0200
Swanky, Rat Pack-type steakhouse. Pricey.
Jamie Kennedy at the Gardiner
111 Queen's Park (third floor of the Gardiner Museum of Ceramic Art), (416) 362-1957
One of three restaurants of celebrated Toronto chef Jamie Kennedy.
Joso's
202 Davenport Rd, (416) 925-1903
Exquisite Mediterranean cuisine in fashionable Yorkville. The lush, intimate interior has wall murals celebrating the female form.
Prime
18 St. Thomas St. (in the Windsor Arms Hotel), (416) 971-9666
Opulent steakhouse and seafood restaurant in one of Toronto's most luxurious hotels.
The Rushton
740 St. Clair Ave. W, (416) 658-7874
French / Italian bistro with hip, urban flair.
Sassafraz
100 Cumberland Street (Museum subway station), 416 964-2222
True foodies dismiss this place as a has-been, but the airy interior of this Yorkville eatery has seen more celebrities than possibly any other Toronto restaurant.
Scaramouche
1 Benvenuto Place (4 blocks south of St. Clair), (416) 961-8011
Consistently hailed as one of the great Toronto restaurants, but it will cost you. Pasta lounge offers less expensive fare. Seats with a view fill up weeks in advance.
Sotto Sotto
116A Avenue Road (Yorkville area), (416) 962-0011
Romantic, candlelight-bathed Italian eatery.
Splendido
88 Harbord Street (just off Spadina), (416) 929-7788
Eclectic, Mediterranean fare hailed as some of the best in Toronto.
Susur
601 King Street West (b/w Portland and Bathurst), (416) 603-2205
The namesake restaurant of celebrity chef Susur Lee received a Restaurant World's 50 Best Restaurants Award.
Cowbell
1564 Queen West, 416.849.1095
Organic and locally grown - menu changes accordingly.

Foxley
207 Ossington Ave, (416) 534-8520
Hip bistro that is always crowded but doesn't accept reservations. Chef Tom Thai serves up world fusion cuisine. Favorites include duck prosciutto dumpling or sea bream ceviche. Not the best choice for a crowd.
George
111C Queen St E (near Jarvis), (416) 863-6006
"Devoted to making everything from scratch with the freshest seasonal ingredients obtained locally when possible." Lovely patio.
Toronto Restaurants
There is a lot of restaurants and bars in Toronto, you only need to choose where will you go today.
If you are in mood for some simple grills here is a selection of few bars available:
222 Bistro
222 Richmond Street West
416-971-4222
Armadillo Texas Grill
146 Front St W
416-977-8840
Bar-Be-Que Hut
1455 Gerrard St E
416-466-0411
Duff's Famous Wings
558 College Street
416-963-4446
Highway 61 Southern Barbeque
1620 Bayview Avenue
416-489-7427
JJ Muggs Grille and Bar
500 Rexdale Blvd.
416-674-5450
Kelsey's
636 Dixon Road
416-240-6932
Lone Star Texas Grill
200 Front Street West
416-408-1559
Safari Bar & Grill
1749 Avenue Rd
416-787-6584
Sierra California Grill
2901 Bayview Ave
416-224-1700
Tex's Grill Restaurant
91 Rylander Blvd.
416-282-0014
Toby's Good Eats
725 Yonge St.
416-925-9908

Or some classic Diners:
27 Diner
25 Woodbine Downs Blvd.
416-675-2775
Avenue Diner
222 Davenport Rd.
416-924-5191
Bonjour Brioche
812 Queen Street East
416-406-1250
Bregman's the Bakery Restaurant
1560 Yonge Street
416-967-2750
Chick-N-Joy
1483 Queen St. E
416-461-5848
Cora
277 Wellington Street West
416-598-2672
Demi's Restaurant
221 Wilmington
416-635-0691
Mars Restaurant
432 College Street
416-921-6332
Mimi's
218 Bathurst St
416-703-6464
Porchetta & Co.
825 Dundas St. W.
647-352-6611
Rosedale Diner
1164 Yonge St.
416-923-3122
Sunset Grill Restaurant
2200 Bloor St. W.
416-763-1444


If you are in mood for seafood:
Big Daddy's Crab Shack & Oyster Bar
212 King St. W.
416-599-5200
Filet of Sole
11 Duncan Street
416-598-3256
C Food
2419 Yonge st
416 544 1661
Neptune's Cove Restaurant
4020 Finch Ave E.
416-221-7766

Rose and Thorne Restaurant
1100 Islington Ave.
416-233-8827
Tempo Restaurant and Bar
596 College St.
416- 531-2822

The Mizzen (Westin Harbour Castle)
1 Harbour Square
416-361-7454

The Lobster Trap Seafood Restaurant
1962 Avenue Rd
416-787-3211

Or some steak:
Barberian's Steak House
7 Elm St.
416-597-0335
Baton Rouge
5000 Yonge Street
416-218-.0094

Baton Rouge
216 Yonge St.
416-593-9667

Harbour 60 Steakhouse
60 Harbour St.
416-777-2111

Jacobs & Co
12 Brant Street
416-366-0200

Le Biftheque Steakhouse
96 Richmond St. W.
416-366-4333

Morton's the Steakhouse
4 Avenue Road
416-925-0648

Red Violin Brazilian Steakhouse
95 Danforth Ave.
416-465-0969

Stonegrill on Winchester
51 Winchester St.
416-967-6565

The Keg Mansion
515 Jarvis St.
416-964-6609

Tom Jones Steakhouse
17 Leader Lane
416-366-6583

Wildfire Steakhouse & Wine Bar
3438 Yonge St.
416-483-4800

Toronto Restaurants
Zazou Private Dining & Events
Stylish and urban ambiance with European flair.. With a full bar, reception area and dining room at your disposal, Zazou is ideal for meetings, presentations, retirement, birthday and holiday parties.

Rosewater
Minutes from Toronto's Financial and Theatre districts, the Rosewater offers a fresh and unique dining experience.
Sushi Kaji
Ranked no. 1 for food in Toronto by Zagat Survey 2011. Fish comes strictly from Tokyo bay. Rice, vegetables and even garnishes are from Japan. In order to maintain the highest quality of food and service, only 30 seats are available each evening. Sushi Kaji is one of the best sushi restaurants in North America.
North 44 °
Chef Mark McEwan New Continental cuisine has made North 44 the most wanted dining spot in Toronto. Named after the city's latitude, North 44 is a gourmet experience perfect for business, social & romantic dinners.

Marcel's
French restaurant destination for the past 27 years. Marcel's, upstairs, offers French cuisine with impeccable service and an exclusive selection of fines wines, many by the glass.

The Fifth Grill & Terrace
Located on the rooftop of an old warehouse and accessible by a private elevator in downtown Toronto. Great steaks and exquisite French dishes. For sure one of the the best patio in Toronto. Blend of classic steakhouse and French cuisine. It is the perfect setting for any occasion: corporate events, opening parties, seminars, holiday parties, weddings and celebrations of any kind.
Scaramouche -
The cuisine is based on classic Continental and French techniques using the finest ingredients seasonally available. Twice voted "Toronto's Top Restaurant" by Gourmet magazine, Scaramouche remains the pre-eminent destination for fine food &excellent wines, and the place to be.

Terra
One of the best restaurants in Toronto. International cuisine. Chef Stephen Perrin creates fine dining place. A new oyster and Tapas bar-lounge is now opened to serve you. Terra has three private dining facilities capable of hosting up to 70 guests.

Authentic Italian cuisine. Welcome to the ultimate dinner party. A College street location coupled with fantastic food & coctels is a wonderful experience here in the heart of little Italy.

Ciao Wine Bar - Ciao Wine Bar offers a truly authentic Italian experience in a contemporary yet soulful environment in the heart of Toronto's Yorkville District. This Italian eatery and wine bar, offers traditional Italian fare in a relaxed and inviting atmosphere. The mezzanine level, with stone and glass walls, rustic wood finishes and butcher block table tops make Ciao ideal for a casual relaxed meal yet elegant enough for a special night out.

Toronto condos news
One Bloor street Toronto condos
Great Gulf's flagship condominium, One Bloor is under construction in Toronto. This $450 million project will provide 100,000 sq. ft. of new prime retail on three levels, and add 732 new residential suites
http://onebloor.com/
Toronto new luxury condo The Four Seasons Private Residences