Toronto nightlife
Cheval
606 King St. West,
Toronto, ON
416-833-6154
Cheval Nightclub brings luxurious sophistication and European style to Toronto's new bustling nightlife corridor, King St. West. This high-energy music-bar, provides an exemplary VIP nightlife experience for upscale, jet-setting professionals.

Hyde
420A Wellington St. West,
Toronto, ON
416-977-4933
The back alleyway entrance makes Hyde Lounge a secluded hidden haven waiting to be discovered. Catering to both nightlife patrons and corporate functions makes Hyde Lounge an enjoyment for all.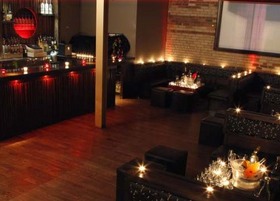 Guvernment
132 Queens Quay East,
Toronto, ON
416-869-0045
Canada's largest, longest-running and most impressive entertainment complex, it features eight distinct venues - each with leading-edge lighting and sound capabilities.
Courthouse
57 Adelaide Street East,
Toronto, ON
416-214-9379
Courthouse Nightclub's boasts 25' high ceilings, original hardwood floors and four authentic roaring fireplaces. This elite Toronto hotspot is the perfect place relax and dance the night away at Courthouse.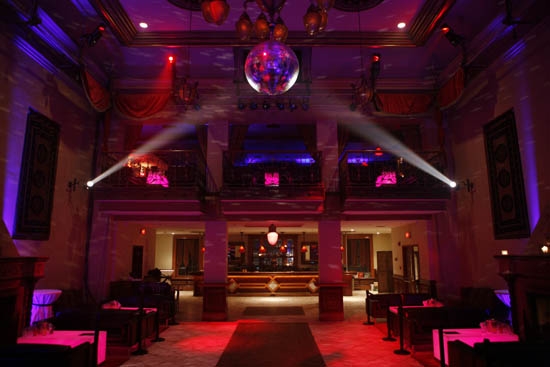 College Street Bar
574 College St.,
Toronto, ON
416-533-2417
College Street Bar has always been well respected for its musical entertainment. Its high level of musicianship and its diverse musical genres have garnered many accolades over the years.

Coco Lezzone
602 College St.,
Toronto, ON
416-535-1489
Coco Lezzone is a haven for those who seek casual Italian dining and a convivial alive atmosphere. This is also a great place to enjoy a late night cocktail in the lounge or at the bar which is open until 2am.
Club V
88 Yorkville Ave.,
Toronto, ON
647 519 6887
Make the choice of Yorkville's Club V for your hotspot destination. Impeccable design, quality clientele and inulgent service merge amidst Toronto's most prestigious locales.
Club 54
3345 Harvester Rd.,
Burlington, ON
1-800-7-CLUB-54
Club 54 Nightclub is one of Ontario's most established and best loved night spots, famed for its supersonic sound system and extra-friendly staff. This exciting nightclub is devoted to musical excellence, mind altering cocktails and social shenanigans.
City Nightclub
296 Richmond St West,
Toronto, ON
4169778900
City Nightclub, Toronto's newest multilevel nightclub right in the heart of downtown Toronto. City nightclub is newly renovated with 4 rooms, 4 sounds and over 16 VIP Booths.
Toronto nightlife
Hollywood on the Queensway
1184 The Queensway
Etobicoke, ON
Live Music, Restaurant, Sports Bar
Horseshoe Tavern
370 Queen St. W.
Toronto, ON
Live Music
House of Lancaster I - Etobicoke, The
689 The Queensway
Etobicoke, ON
Adult/Strip Club, Restaurant
Hush Nightclub
457 Richmond St. W.
Toronto, ON
Lounge, Nightclub
COPIA Grille and Wine Lounge
310A Front Street West
Toronto, ON
Lounge
Courvoisie Lounge
431 Richmond Street West
Toronto, ON
Lounge
Degrassi House
780 Queen Street East
Toronto, ON
Nightclub
Down One Lounge
49 Front Street East
Toronto, ON
Nightclub
Ice Lounge
560 Danforth Avenue
Toronto, ON
Lounge
Club 338
338 Adelaide Street West
Toronto, ON
Nightclub
Club Paradise
1313 Bloor St. W
Toronto, ON
Adult/Strip Club

Comfort Zone
480 Spadina Ave
Toronto, ON
Live Music, Nightclub
Connections Night Life
5835 Dixie Road
Mississauga, ON
Nightclub
Grace O'Malley's
14 Duncan St.
Toronto, ON
Live Music, Nightclub, Pub/Bar
Grass (At Rockwood)
31 Mercer Street
Toronto, ON
Nightclub
Habitat Lounge
735 Queen ST W
Toronto, ON
Lounge
Gladstone Hotel Ballroom
1214 Queen Street West
Toronto, ON
Nightclub
Glam Boutique
247 Spadina Ave. (just South of Dundas, 2nd Floor)
Toronto, ON
Nightclub
Toronto nightlife
ZU Bar
4170 South Service Rd
Burlington, ON
Dancefloor, Lounge, Nightclub, Patio, Pub/Bar
C Lounge
456 Wellington St W
Toronto, ON
Lounge, Nightclub, Patio, Pub/Bar
Cabin Five - Easy & The Fifth
225 Richmond St W
Toronto, ON
Dancefloor, Munchies, Nightclub, Pub/Bar, Rental Venue
Club XS
261 Richmond St W
Toronto, ON
Dancefloor, Lounge, Nightclub, Rental Venue
Cobra Nightclub
510 King St W
Toronto, ON
Dancefloor, Nightclub, Patio
Dardanella Beach Bar, The
13 First St
Wasaga Beach, ON
Dancefloor, Live Music, Outdoor/Patio, Patio, Restaurant
Embassy Nightclub
117 Peter St
Toronto, ON
Dancefloor, Lounge, Nightclub, Rental Venue
Fifth Social Club - Easy & The Fifth, The
225 Richmond St W
Toronto, ON
Dancefloor, Lounge, Munchies, Rental Venue
Kool Haus
132 Queens Quay E
Toronto, ON
Dancefloor, Live Music, Nightclub, Patio
LIV Nightclub
332 Richmond St W
Toronto, ON
Dancefloor, Lounge, Nightclub, Patio
LIVE Toronto
332 Richmond St W
Toronto, ON
Dancefloor, Lounge, Nightclub, Rental Venue
Mansion & Loft Toronto
102 Peter St
Toronto, ON
Dancefloor, Lounge, Nightclub, Rental Venue
Molson Amphitheatre, The
909 Lakeshore Blvd. W
Toronto, ON
Live Music
Nyood Bar
1096 Queen St W
Toronto, ON
Lounge, Nightclub, Pub/Bar, Restaurant, Tapas
Pravda Vodka Bar
44 Wellington St E
Toronto, ON
Live Music, Lounge, Pub/Bar, Restaurant, Tapas
Rockwood
31 Mercer Street
Toronto, ON
Nightclub
Skybar
132 Queens Quay East
Toronto, ON
Lounge, Nightclub
Tattoo Rock Parlour
567 Queen St W
Toronto, ON
Dancefloor, Live Music, Lounge, Rental Venue
This Is London
364 Richmond St W
Toronto, ON
Dancefloor, Lounge, Nightclub
trYst Nightclub
82 Peter St
Toronto, ON
Dancefloor, Lounge, Nightclub
Ultra Supper Club
314 Queen St W
Toronto, ON
Dancefloor, Lounge, Outdoor/Patio, Rental Venue, Restaurant
2 Cats Cocktail Lounge
569 King Street West
Toronto, ON
Nightclub
4033 BABYFACE PARTY LOUNGE
4033 GORDON BAKER ROAD
Toronto, ON
Lounge
Amber Restaurant
119 Yorkville Ave
Toronto, ON
Lounge, Restaurant
Area 51
577 King Street West
Toronto, ON
Nightclub
Babaluu
136 Yorkville Avenue
Toronto, ON
Lounge, Restaurant
BLUSH Restaurant and Lounge
4320 Sherwoodtowne Blvd
Toronto, ON
Lounge, Restaurant
Bottoms Up Cabaret
260 Queen St. East
Toronto, ON
Adult/Strip Club
Bovine Sex Club
542 Queen St. W.
Toronto, ON
Live Music, Nightclub
butt'r
587 College Street
Toronto, ON
Lounge, Restaurant
Caddy`s Strip Club
2787 Eglinton Ave. E
Toronto, ON
Adult/Strip Club, Restaurant
Cafe Soleil
100 Princes' Blvd
Toronto, ON
Lounge
Calypso Hut 2
30 Melanie Drive (Steeles &Torbram
Toronto, ON
Nightclub, Restaurant
Cameron House
408 Queen Street West
Toronto, ON
Lounge
Canteena Azul
181 Bathurst St.
Toronto, ON
Lounge, Restaurant
Carlu, The
444 Yonge St, 7th Flr
Toronto, ON
Rental Venue
Century Room
580 King St. West
Toronto, ON
Lounge, Nightclub
Cheaters Adult Entertainment
2087 Yonge St.
Toronto, ON
Adult/Strip Club
Chelsea Room, The
923 Dundas St West
Toronto, ON
Lounge
Chicagos Diner
335 Queen St West
Toronto, ON
Live Music, Restaurant
Clinton's Tavern
693 Bloor St West
Toronto, ON
Lounge, Pub/Bar
Toronto condos news
One Bloor street Toronto condos
Great Gulf's flagship condominium, One Bloor is under construction in Toronto. This $450 million project will provide 100,000 sq. ft. of new prime retail on three levels, and add 732 new residential suites
http://onebloor.com/
Toronto new luxury condo The Four Seasons Private Residences